Alcohol abuse is the 3rd highest cause of preventable death in the United States with over 88,000 people dying annually.
What is Alcoholism
Alcoholism, also known as alcohol use disorder (AUD), is a widely used term for any drinking of alcohol that results in mental or physical health problems.
In a medical context, alcoholism is said to exist when two or more of the following conditions are present – if a person drinks
How Do You Know if You Are an Alcoholic
Another commonly used tool to define if an individual suffers from alcoholism is the test "20 Questions" from AA.
The 20 Questions of Alcoholics Anonymous Here are 20 Questions designed to help you determine how alcohol has affected your life
Do you lose time from work due to drinking?
Is drinking making your home life unhappy?
Do you drink because you are shy with other people?
Is drinking affecting your reputation?
Have you ever felt remorse after drinking?
Have you got into financial difficulties as a result of drinking?
Do you turn to lower companions and an inferior environment when drinking?
Does your drinking make you careless of your family's welfare?
Has your ambition decreased since drinking?
Do you crave a drink at a definite time daily?
Do you want a drink the next morning?
Does drinking cause you to have difficulty sleeping?
Has your efficiency decreased since drinking?
Is drinking jeopardizing your job or business?
Do you drink to escape from worries or trouble?
Do you drink alone?
Have you ever had a complete loss of memory as a result of drinking?
Has your physician ever treated you for drinking?
Do you drink to build up your self ­confidence?
Have you ever been to a hospital or institution on account of drinking?
If you have answered YES to any of the questions, there is a definite warning that you may be alcoholic.  If you have answered YES to any 2, the chances are that you are an alcoholic. If you have answered YES to 3 or more, you are definitely an alcoholic.  How many questions did YOU answer YES to?
Long-Term Effects of Drinking Alcohol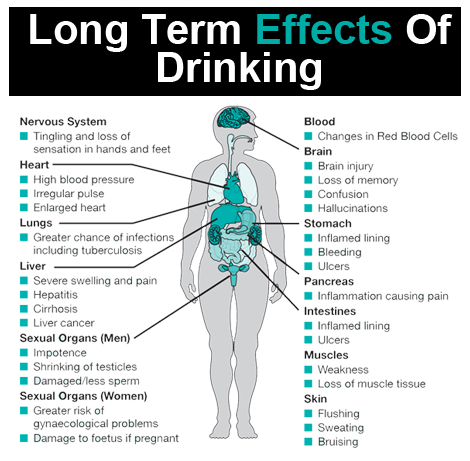 Alcohol, when abused over a long period of time, has negative effects on every single area of the body.  It can lead to illness and eventually death.
How To Get Help
If you suspect that you have a problem with alcohol – it is suggested that you seek help, as they say in AA "alcoholism is a progressive and fatal malady".  It is proven to get only worse as time goes on, never better.
The good news is that there is immediate help available in various forms from a variety of sources.  You could start with the program of Alcoholics Anonymous – which is a 12 step spiritual program of recovery where other alcoholics join together with a common goal – to help the still suffering alcoholic and remain sober themselves.
You could also visit your family doctor or local hospital or health clinic and ask for help.  Many communities have a wide variety of assistance.
If you consume a large quantity of alcohol on a regular basis and you want to stop it is highly suggested to seek medical help – withdrawal symptoms (detoxification) can be dangerous and life-threatening.  A medical team may need to assist you to detox safely.
Do You Suspect Someone You Know Has a Problem with Alcohol?
If someone that you love suffers from alcoholism the best way you can help them is to get informed about the disease of alcoholism.  Seek help for yourself from a doctor, counsellor, or attending Al-Anon meetings.  Al-Anon is a 12 step program designed to help people who have been affected by another person's drinking.